We all get lost. Whether emotionally, physically, spiritually, or all of the above—life can take us off track. Join us on the sun-drenched coast of Central California in San Luis Obispo for four days and three nights of journeying back to you. This intimate retreat will be a powerful way to reset and connect.
RRetreats were developed by Meadow Devor and Laura McKowen to provide unique experiences that empower you to recover your true, whole self. Through a combination of yoga, meditation, teachings, discussion, nourishing food, beautiful scenery and unstructured down time, we will cultivate a deeper sense of belonging: to this world, to your community and to that which you are called to serve.
The program is specifically geared toward the path of recovery of mind, body and soul. Read: the happy hour is on the yoga mat.
A combination of yoga, instruction, processing, healing, rest and nourishing food. Over the course of the retreat, you will be guided to tune into and shift your relationship with your thoughts, emotions, body and your inner-most wisdom.
There will be a morning and afternoon yoga sessions focused on core themes. Meadow will teach restorative, Yoga Church style yoga, and Laura will teach a more powerful Vinyasa flow. No prior yoga experience is necessary.
Evenings will be spent storytelling, laughing and connecting around the fireplace or cozying up with a good book and a cup of tea in one of the living rooms. The property backs up to a gorgeous view of the vineyard and hills; it is a perfect place to walk and wander.
And of course, just like every other retreat, we will be spending plenty of time doing soul-searching self-work with lots of relaxation and play built into the schedule.
This is an intimate retreat where you will have access to Meadow and Laura, as well as opportunities to interact with the retreat group, but you can also choose to use as much time as you wish for quiet and individual reflection.
All activities during this retreat are focused on uncovering, or more deeply examining who you are, what you want, what isn't working for you and what you yearn for. Regardless of where you are in recovery—years in, or simply hearing a call you have yet to answer—this retreat will deepen your experience and connection to your own path.
This retreat will be powerful.
Accommodations and Food
The retreat will be held at Greengate Ranch in San Luis Obispo, just minutes from the SLO airport. There are on-site lodging accommodations at the Ranch House, all featuring private bedrooms with king-sized beds available for single or double occupancy. Meals, yoga, and group sessions will be held at the Ranch House. Off-site lodging recommendations are listed below.
The following video provides an overview of the property.
THE RANCH HOUSE
SPOTS AT THE RANCH HOUSE ARE SOLD OUT. We have off-campus spots available - read below.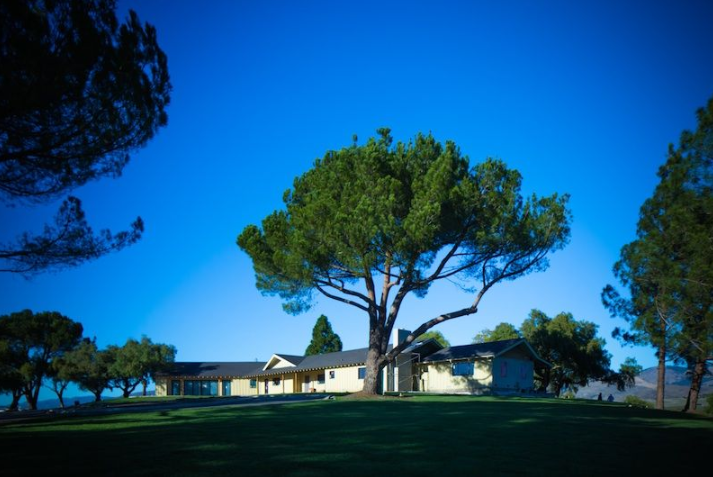 OFF-SITE LODGING RECOMMENDATIONS
TRAVEL INFORMATION
Greengate Ranch is 4 miles from San Luis Obispo Airport (SBP). The ranch is about four hours north of Los Angeles (LAX) and four hours south of San Francisco (SFO). You may want to consider renting a car if you'd like to see some of the sites in the area while you are here. Morro Bay, Heart Castle and Big Sur are a short car ride away. There are many wonderful restaurants in San Luis Obispo and the Avila Beach area.
Uber is available for rides to and from the ranch.
MEALS
Dinner will be provided Thursday night on property and breakfast/lunch will be provided on Friday, Saturday, and Sunday. On Friday and Saturday night, reservations will be made in downtown SLO for dinner, if you choose to participate, or you have the option to eat at the house as the ranch has a full kitchen.
Testimonials
I'm not sure I can put into words what this retreat meant to me. Laura and Meadow gave me a safe space to explore and process some deep and difficult feelings, as well as some wonderful tools to move past them and to grow and flourish. "Thank you" just doesn't seem sufficient, but I am grateful beyond measure, and I can't wait to return next year. - Attendee, Bainbridge Island RRetreat
The RRetreat was transformative for me. Meadow and Laura brought 110% of themselves and their gifts to the entire experience and I can't express in words what a gift they gave me. My entire being- body, mind, spirit and soul- was healed during those 3 days. I have found my center again with the loving care and compassionate guidance Meadow and Laura gave to me. They were attentive to each individual exactly where we were at, which is a precious gift. I recommend this retreat, or anything hosted by Meadow or Laura, without a moment's hesitation. - Attendee, Bainbridge Island RRetreat
FAQs
Q. Are these retreats for women only?
A. Nope! Open to all sexes. For shared rooming spaces, you will not be placed with someone of the opposite sex unless requested.
Q. Are these retreats only for sober people?
A. No, the retreat has a recovery focus, meaning it is for anyone who is recovering from something (which is everyone) be it substance abuse, workaholism, perfectionism, abuse, trauma, or simply burn out, but there's no requirement to be sober or need/want to be sober. The focus is on the integration of the full self: mind, heart, body, soul.
Q. Who are you guys?
A. You can take a moment to get to know us by clicking Meadow and Laura. Together, we bring decades of experience teaching yoga, life coaching, and personal development.
Have other questions? Email laura@iflyatnight.com.
Itinerary
Thursday
12 pm Check-in
6 pm Dinner + welcome
Friday
7-8 am Breakfast
9 am - 12 pm Morning workshop
12 - 1 pm Lunch
2-5 pm Afternoon workshop
6 pm Dinner
Saturday
7-8 am Breakfast
9 am-12 pm Morning workshop
12-1 pm Lunch
2-5 pm Afternoon workshop
6 pm Dinner
Sunday
7-8 am Breakfast
Closing workshop
12 pm Check-out
Registration and Payment
Registration (off-site and on-site) includes meals as stated above. We have a limited number of premium accommodations available on site. If you are staying at the ranch, check-in is at 3 pm on Thursday and check out is at 12 pm on Sunday. Upon registration, you will receive a confirmation with further details and questions about your meal preferences and lodging. If you're staying off-site, you'll receive a confirmation with details and questions about your meal preferences and retreat hours, what to expect, and what to bring.
Payment Options
We are offering two payment options. Clicking on the links below will take you to Meadow's site to process payment.
Register in full now:
Secure my spot with a deposit now:
Secure my spot with a $850 deposit now. The balance will be due by March 1, 2017. You will be contacted for payment information to process the rest of the payment; it will not be automatically charged to the card/account you use for the deposit.
We want you to make sure that all of your questions are answered and that you have access to the information you need. Please feel free to email us or give us a call at (805) 779-4033.
All sales are final. No refunds will be issued for any reason, but you are free to transfer your registration to another attendee. If you have questions, please email laura@iflyatnight.com.